JOCK AND JESSIE
An ordinary couple's Twentieth Century
Chapter 1……..DAD'S BOX
 When your surviving parent dies it dawns on you that nobody else can help you identify the people in the faded photographs. Photographs which for years had no interest for you are suddenly the subject of wonderment. Could this be 'Aunt Alice' who gave dad that stamp album? Are these two the fabled 'Auntie Mutti and Aunty Bertha'…….and were they real aunties or just like any old family friends who played aunties and uncles to us kids in them days? And 'Queenie'? My nan's name? Was that a generic name for all old women or was my nan actually christened Queenie Sutton? If so how come you never saw a kid or a girl called 'Queenie'???? Why hadn't I asked at the time or in the five or six years as mum's physical health steadily worsened but her mental state sharp as ever? But she wouldn't have known the people in dad's Scottish photos. Would they forever remain unidentified? Or would I embark on painstaking research to find out who they were? These servants and gardeners and young men on motor bikes and soldiers…….always unknown soldiers. A photo-sleuth Sherlock Holmes sounded exciting but it could also take over your life with enthusiasms no one else shared. My partner was no longer concealing her yawns as I excitedly revealed the discovery of third cousin Derek sitting on pebbles at Brighton circa 1952. But what about dad's army photos? Was there almost a sense of obligation to find out who they were? It now seemed imperative to display his medals in a case. Was I expiating some guilt at having missed National Service by a few years? There were some photos of him alone, some in groups of mates, some with scribbled names on the back but many small photos of men with no identification. There were a couple signed 'from your pal George' . How many 'Pal Georges' were there…promising to keep in touch as they were fitted out for their demob suits before heading home from Aldershot and Catterick with their release papers? No cars, no phones….keeping in touch by letter..how long would that last? But here was an actual letter – the solitary one – 'from your pal Dick' – in 1947 keeping in touch with Jock Bone as promised.
    September 23rd 1947……A PAL'S LETTER
 21 Hope Street Blackburn Lancs
    Dear Jock
    I was very glad to hear from you and to know that you are keeping well.  So you are a father now eh!  Congratulations, you will most likely be kept pretty busy now as they do seem to cause quite a lot of work.  I know with my sister's baby,  anyway your wife will probably let you off with pushing the pram occasionally.  You seem to have been moving around a bit since you last wrote, however if you are settled comfortably now, that's the main thing.  It certainly is a job finding a place these days, unless of course you have plenty of money to pay the prices they are asking.  As regards myself Jock, I have not very much to tell you.  I don't seem to be able to settle down properly to anything. Since coming out of the army I have had some grand opportunities but have turned them down like a fool.
    No I'm not married yet, that's another thing I don't seem to be able to make my mind up about, I believe the last time I wrote to you I was going out with someone but that has been finished lone ago.  She was a very nice girl in every way and we got on well together, but just thinking about it almost scares me to death, since then I have had an occasional night out with one or another, but nothing more.
    Yes I still go dancing Jock, about once a week as a matter of fact, most of the girls that go however are pretty young, its very seldom you see any around the thirty mark, I think they all must have got married or else given it up as a bad job.
    My pal and I went to Jersey for our holidays and had a very nice time, there's not a lot to do during the day except swimming, sunbathing or going for a trip round on one of the coaches, but at night there's some really good places for dancing and most of the cafes keep open until after 1AM, so we had some good meals after a hectic evening.  We got quite friendly with twins that were staying at the same hotel as ourselves and were with them all week.  The journey is too long however for a week and if we go next year, we will try to make it a fortnight.  I still have a week's holiday to come yet but am undecided about it.  My sister wants me to go to Edinburgh, but I may just take it in days whenever I feel like it, you know football matches etc.
    No, I have not heard from Lucky for some time now, I have been intending dropping him a line to see how he is going on, but you know how you keep putting these things off.
    Anyway Jock that's all for the present, so the best of luck old boy and if I ever do get round your way I'll certainly look you up.
    Cheerio,
    Dick.
 I remembered the other names dad had mentioned – Wilf Adshead, Louis Moss, Jim Jack – often just names on Christmas cards over the years. Then there would be no Christmas card from Wilf Adshead – had he died or just grown weary and crossed dad off the list. We didn't mount an expedition to find him – he was crossed of our list and faded away. But here was a wedding invitation from Lewis Moss to a synagogue in Golders Green in 1947. Did dad go? How would I ever know? Should I mount a forensic photo enquiry like Timothy Spall in Stephen Poliakoff's mesmerising 'Shooting the past'? I could track all the pals in the photographs down – but to what purpose? I'd turn up on the doorknocker holding a clutch of sepia photos, eventually getting a nod – 'Yes that's him alright – a total cunt'. There may not be a sepia tinged happy outcome to all enquiries. Should I just bin the unknown photos then? Maybe burn them on a small bonfire in the back garden, seeing the images crack and curl up at the edges, turning brown like a napalm hit before being lost forever? Maybe I'd dash into the flames as one fell stickily away from another to reveal my never before seen Great Auntie Mutti – seized at the last from the pyre. I couldn't bring myself to throw them out. Somewhere round England or Scotland someone was staring at a similar photo of my dad. Maybe Pal Georges' son. Would I just stick the box back under my bed instead of under mum and dad's where it had lived under the double divan for years? I cleared the house taking the box and the albums. That was it. There could be no more finds. No more single photos stuck under the drawer lining paper. It was down to the box and me now. A big old fashioned cardboard box with a fitting lid. Then a hatbox. It contained 'things,wonderful things' aka 'dads army stuff'. When I was a child we'd get it down (sometimes it was up, sometimes down) and marvel at its hand tinted postcards of Tunisia and italy, snigger at the nude marble statues fronting museum guides, and cheer at Gunner Bone's drive up through Italy. Every year there'd be less and less of 'dad's stuff'. There had been some delicate mosaic bracelets from Italy that I'd purloined as wrist bands in my hippie days as I'd pinched dad's garish kipper ties. There was an ashtray made out of molten lava from Vesuvius which had erupted during dad's time in Naples. I marvelled at his daring in scooping the boiling lava up 'That should be out on display' I opined to mum 'It's an object d'art'. For a year or two it was tolerated by mum on the mantelpiece, then got relegated to the shelf above the airing cupboard – in truth mum never rated the clinkered old bit of cinder. One evening we got the box down for my kids to look at it – it had become a much in demand ritual for my children as well as me. 'Where's the lava' they cried. Mum looked shamed face. She'd thrown it out. What!! 'It took up too much room' she countered pathetically. 'Room' I exclaimed 'it was tiny – it took up no space at all' She'd thrown dad's heroically gathered Vesuvian lava out. Ye Gods!!. We agreed nothing else was to be thrown out of the box – EVER – so the excited cry of 'let's get dad's box down' continued on to my own grandchildren. But what was in the box? Lots of black and white photos of people we didn't know. Postcards of North Africa and Italy, museum and gallery guides for Florence, Rome and Venice, programmes of ENSA shows – we laughed that granddad seemed to be on a grand tour of Italy rather than battling up the slopes of Monte Casino. But there were army cap badges, buttons, cloth military insignia amidst the still unopened packets of cigarettes and Italian bank notes of huge denomination There had been an impressive silver nazi swastika car badge dad must have been removed from a vehicle he'd just ambushed I surmised – maybe mum had chucked it – 'too much room'. Some up to the elbow yellow motor cycle dispatch rider's gloves were often on the top of the box till I took them to school and told everyone they were special Bert Trautmann goalkeeping gloves. We marvelled at these cultural artefacts and at the photos of dad in his khaki shorts matemorphosing from boy to man amongst his pals over six years of service .Mum would deliberately get dad's war stories wrong to amuse the kids 'Grandad was blessed by Mussolini in Vatican Square' 'No he was blessed by the pope' we shouted back But by the end she was insistent dad was blessed by Mussolini in Vatican Square – 'or it might have been Hitler' The photos we laughed at –how funny everyone looked but our attention strayed elsewhere when mum or dad enthused over some lost pal or distant relative. Then it was too late to ask who they were. No one would ever know. Often we used to say there was 'tons' of dad's stuff. We marvelled at how Gunner Bone had gone into battle weighed down with books on Michaelangelo and Rennaissance Florence and postcards of the Kasbah in Tunis but in reality there was just one boxful plus photo albums and a book of press cuttings, Down at the bottom of the box there was an area of compressed memorabilia sludge – where everything was thin and stuck together and you didn't look for fear of ripping it and it didn't look like much of a laugh to be honest. But when I finally looked after their deaths it was like a line of amber for a dinosaur hunter – in this antediluvian sludge of paper at the bottom of the box was the key to their lives – and other lives. The DNA in this slew of paper identified their lives as emblematic of so many of their generation. There were wartime leave passes, his army paybook for 76 months service, his call up and discharge papers. But then, right there in the sludge, it became mum's box as well – or Jock and Jessie's box. There were all their wedding telegrams, thin as rice paper waiting to be teased off to reveal 'May all your troubles be little ones' x 20. Ration books, identity cards, health cards, the wedding service. There was the receipt from the Palace hotel in Paignton for the week's stay of their honeymoon, the programmes for the shows they saw in Paignton…and the band music programme from the Paington promenade bandstand…..'Oh we do like to be beside the seaside'. And photos of mum looking young and pretty and dad flash from austerity in his kipper ties. And an unopened envelope marked 'Ian's first curls' – now with added tear drops. And mysteries to be solved .. Coronation tickets – how did they get the numbered invite to The Mall grandstands? The Christmas card 'To you both' from Clark Gable, the Gregory Peck monogrammed playing cards. Who was Lady Docker with her autograph alongside Bing Crosby's? And solved. Dad's wartime passes showed a month's leave in 1945 which explained how he and mum were together on VE night at the New Inn in Bristol but then he'd returned to active service till February 1946.They were married in August 1946 then a week's honeymoon – then where? Homeless like millions of others who ended up squatting in service accommodation and army huts. I looked again at the Paignton bandstand programme. No wonder they liked to be beside the seaside for at the end of the week they'd return to….nowhere. They were separated again. How precarious was that existence. I was born in August 1947- A Bulge baby during a terrible cold winter with fuel shortages and frozen pipes that demoralised even the Labour government. The Identity cards show them living apart, then in a pub in Wiltshire then on a farm – all within few months. Dad was working as a fireman at the munitions factory where mum had worked during the war while mum lived back with her mum in Hindon. Then he'd got a job in Sussex. So that was why dad didn't seem me till I was three days old and his famous words as he flew through gran's gate at Hindon were 'What's his name?' There were photos of mum at Chilmark munitions factory during the war making bombs and bullets and a splendid photo of the Chilmark Dynamos Womens football team. She must have posted it off to Jock overseas and had written on the back 'Don't we look tough darling'.
CHILMARK DYNAMOS FC – WARTIME MUNITIONS FACTORY TEAM – I asked mum once if she'd ever scored a goal – 'No ' she replied 'But i did go up the field once and kick it in the net'
 Programmes for shows they'd seen in London – 'GAY ROSALINDA' and The Crazy Gang – alongside receipts for utility furniture, a table and a Tallboy. Always the hopes of fun and a better future – the exciting next to the mundane, encapsulated in a photo from the Festival of Britain in 1951 when the Labour government tried to share the hopes of its people. Then the last ration books as austerity melted away and photos of our proud Ford popular – 135 BKK forever lodged in my memory. Press cuttings showing dad's growing political awareness as he became active in the Labour Party, an invite to a dinner with Harold Wilson, Chairman of the Constituency Labour party, then an end to life in service, the chance to join a trade union, receipts for payment of their only ever mortgage on their very own house, then those proud photos from the Tolpuddle Martyrs march alongside Comrade Blair. The hopes that Ian might go to university. Then Mum proudly waving me goodbye off to Swansea university on Reading railway station. The train moved off and I was anxious to start my independent life on a train full of students. But horror! As the train moved off mum walked alongside the window towards the end of the platform…… mouthing something about not forgetting….. not forgetting what…oh jesus don't ask…it might be fucking underpants! I fled to another carriage the minute we left her behind. It would be a long time till I looked at dad's box again. At Jock and Jessie's box of stuff. Too late to solve some mysteries. But I didn't want to solve them all – best leave some knots untied or maybe this book will tie up loose ends.Maybe not. But the photos here must lurk in every wardrobe and tallboy and airing cupboard in the land. Jock and Jessie weren't special to anyone but their family but their lives of war, austerity, bulge babies and hope might speak to many more ordinary people. Here's dad's box, my dad's box…..check it out, you'll have one too.
JESSIE WROTE SOME STUFF ON HER WARTIME YEARS
I was born in a small village called Hindon in Wiltshire in 1927.  We lived at Hill Terrace.  There were 6 of us children, me, my sisters Elsie and Joan and my brother Bill, Tuff and Perce.  My Dad was in the merchant navy.  During the war I worked in munitions where I became a semi skilled worked.  I met a soldier, John Bone (known as Jock) who was stationed in Hindon.  He was in the 5th Survey Regiment of the Royal Artillery and served in Italy and North Africa.  We were married when the war ended.  My brothers and father were all in the navy and my cousins also fought in the war.  I consider myself lucky that all my immediate family and my husband survived the war.   On of my cousins, Raymond, was killed when he parachuted into northern France on June 20th as part of the D Day Invasion.
I had to do war work.  It was very difficult for me as I had my father and three brothers away in the navy and marines.  My father and brothers refused to let me go in the forces because they said that I had to stay and look after my mother and two sisters.  I wanted to go in the NAAFI but they wouldn't let me.  They said that I had to be there for my mother.  So in the end I did war work at Chilmark munitions.  I did release bars for aeroplanes and I belted ammunition.  I became semi-skilled.  We used to sit on the ammunition whilst the enemy were going above!  I belted hand grenades and did welding.  As we shut the lids of the munitions, we would write messages like "give it to them boys!" and some of us would put our names and addresses in the boxes.  Frequently we received letters back from the soldiers.
The only thing I did wrong – very wrong – was the fact we had to be searched for cigarettes.  We were searched when we went down and when we went back up.  When we went into lunch we found the girls that smoked kept awake.  My sister said to me "we have to learn to smoke!" – that was how I started smoking and I wish I hadn't.  I remember working nights and going to the cinema and my head going round because I was trying to smoke.  I used to force myself to have a cigarette.  We were addicted.
Jock – my boyfriend in the 5th Survey Regiment of the Royal Artillery – was working in Africa and Italy.  He came home for VE Day which was spent in Bristol in a pub called the New Inn.  We went there and we met the regiment who were based there.  We met my husband's friends.  I must have been a bit frivolous because I made eyes at another man in Jock's regiment!  Jock got cross with me and I threw back my engagement ring – on VE Day!  By the end of the day we couldn't be without one another and we made it up and I got the ring back.  We were married and grew old together and were very very happy for 57 years so you could say that VE Day was a little blip!  Anyway, there were lots of people at the New Inn and we had great fun.  We were all really enjoying ourselves.
When I heard the announcement that the war had ended I was very pleased but Jock was not released then as he had to stay overseas.  He came back for VE Day for a month but then had to go back for another year.
When Jock came home for the month, the people he had worked for before the war (he was in service as a butler) – invited us to stay with them in London at their big house for a week.  They took us to see "Gay Rosalinda" which was a musical.  We went to see "Me and My Gal" and several other shows.  They paid for us and we had a great time.
Jock then had to go back abroad.  I carried on doing the munitions, belting ammunition which was still needed for the was in the Far East.
GRANDAD PLAYING CARDS AT GLENBUCK
- I love this photo – he should have been hard at work grafting to fill in the disused pits at GLENBUCK in Ayrshire but instead he ran card schools in the hills above Glenbuck. One card player was BILL SHANKLY who my grandad did not consider good enough toget in the GLENBUCK CHERRYPICKERS football team founded by my great grandfather EDWARD BONE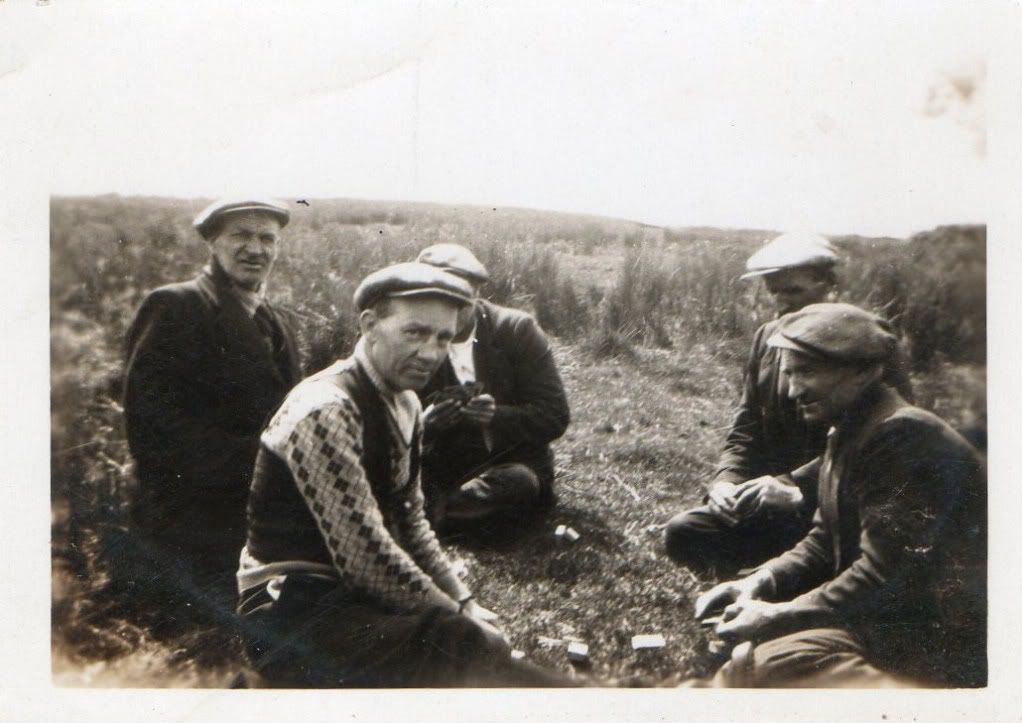 My mum's school photo from Hindon,Wlithsire-she's second from the right in back row -I just love the four cheeky urchins in front of her
CLASS HATRED IN ONE SO YOUNG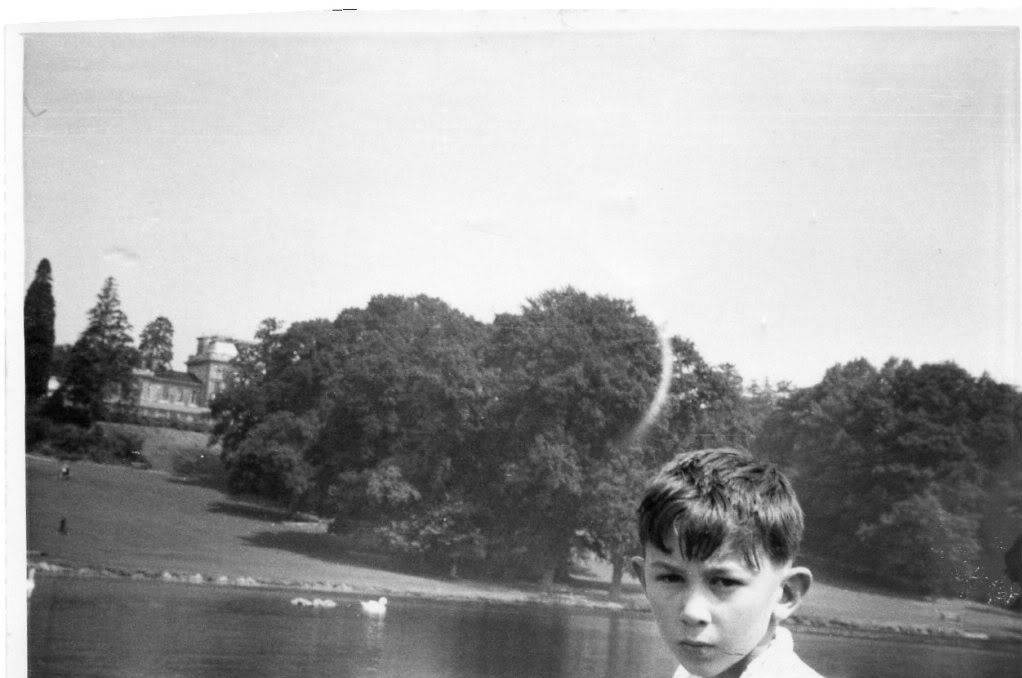 This is the moment my life was pre-determined. I'm standing in front of one of the mansions my dad worked in as a butler. Just look at my face…….
by contrast  here's the cooks,nanny,housemaids,gardeners, chauffeur and the rest of the servants quarters….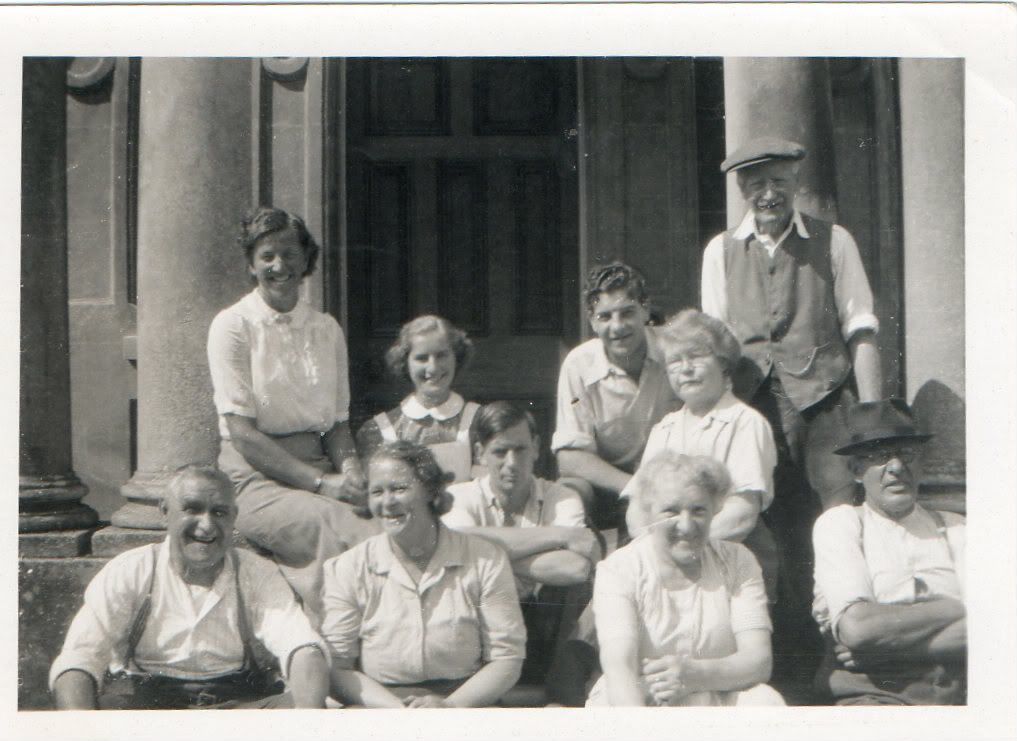 SEPERATED AT BIRTH – ME AND BARONESS BEAVERBROOK

             Here's a  very sweet  photo of me and Baroness Beaverbrook frolicking in a sandpit  at Hermongers mansion in Sussex together. What a cruel reflection of our class society that we've drifted apart over the years since this photo in 1949. She was then SUSIE MORE'OFERRALL but went on to wed SIR MAX AITKEN the 3rd Baron Beaverbrook becoming Baroness Beaverbrook. Her father's butler's son however never married and is now a  bitter washed out agitator with a Freedom Pass. Some Jeremiah's  say our paths were feted to part because of the class basis of our society – either way my christmas cards are not reciprocated!